Bottle Cap Hops Tea Lights - Sp Ap Pecan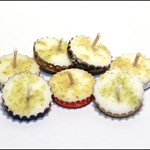 Category: Gardening,Gifts & Crafts
Fragrance: Spiced Apple Pecan

These small tea lights are made from left over wax and wicks when we make our candles. The scents are the same as what went into the beer bottle candle at the time of production and hops are sprinkled on top. Each tea light usually lasts approximately 20-40 minutes. Custom orders welcome.

Soy wax melts at lower temperatures, so candles need to be kept out of hot temperatures and direct sunlight.
Tags
Local
Available At These Locations
Purchase
5.3 % Virginia sales tax