Vegan Hops Salve - Essential Oil Blend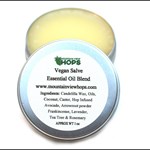 Category: Health & Beauty
Our customers have been extremely happy in the consistency and applications of our hops infused salves. We infuse our Avocado oil with our own hops grown on our farm to create these unique and high-quality salves.
Each container of salve is 1 ounce.
Ingredients Include: Candelilla Wax, Coconut Oil, Castor Oil, Hop infused Avocado Oil, and Arrowroot Powder. The Midnight Sky salve also contains activated charcoal and kaolin clay.
Tags
Dairy Free
Egg Free
Gluten Free
Local
Vegan
Vegetarian
Available At These Locations
Purchase
5.3 % Virginia sales tax